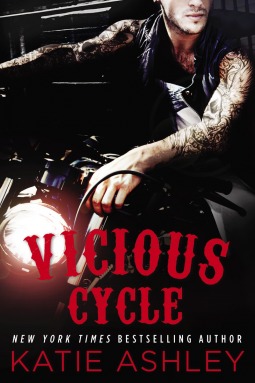 New York Times bestselling author Katie Ashley revs up the danger and sexual tension in her brand-new Vicious Cycle romance series.

Deacon Malloy's life is dedicated to the Hell's Raiders motorcycle club. Tough, hard, and fast with his fists, he serves the group as sergeant at arms. But his devil-may-care approach to life is thrown for a loop when the five-year-old daughter he never knew existed lands on the club steps.

Alexandra Evans is devoted to all her students—but there's always been something about Willow Malloy that tugs at her heart. There's an aura of sadness about her, a girl in need of all the love Alexandra can give. When Willow stops coming to school, Alexandra's search leads to a clubhouse full of bikers…and a father hell-bent on keeping his daughter always within sight.

The moment Deacon sees Alexandra, he has to have her in his bed—and he's never met a woman yet who couldn't be persuaded. No matter how attracted she is to Deacon, Alexandra refuses to be just another conquest. But it's Deacon himself who could be seduced—into a brighter future for himself, his daughter, and the woman he's falling for against all odds.
REVIEW: ***
This story was ok. I am getting tired of the MC themed books though. Most of them try to be dark, but they come off as just not quite there. This one was a bit darker than most I have read, the MC was full of criminals and bad asses, and it did describe some of what the MC was into..such as running guns/drugs etc. But I have a hard time getting into these stories. I don't much agree with a criminal lifestyle and don't particularly like reading about them either.
The characters were ok, nothing to write home about, but it was an enjoyable enough book. Bit cliche, but aren't all romances for the most part?